K - 12 Religious Education
St. Ambrose offers religious education classes for students in grades K-12 who attend public or other non-Catholic schools. Students are provided the necessary preparation to receive the Sacraments of First Penance, First Holy Communion and Confirmation.
Mission
The St. Ambrose Religious Education program strives to support parents in handing on the Catholic and Apostolic Faith to their children by offering a systematic presentation of the Faith in union with and in fidelity to the Holy Roman Catholic Church founded by Jesus Christ.
2023-2024 Religious Education Classes | September 10, 2023 - June 2, 2024
Grades K-7 | Sunday | 8:45-9:45am | School
Grade 8  |  Monday | 7-8pm | Parish Hall
Grades 9-12 | Sunday | High School God Squad | 6-8pm | School Gym
RCIC | Monday | 7-8pm | Parish Hall
Tuition and any fee payments may be made online at the end of the registration process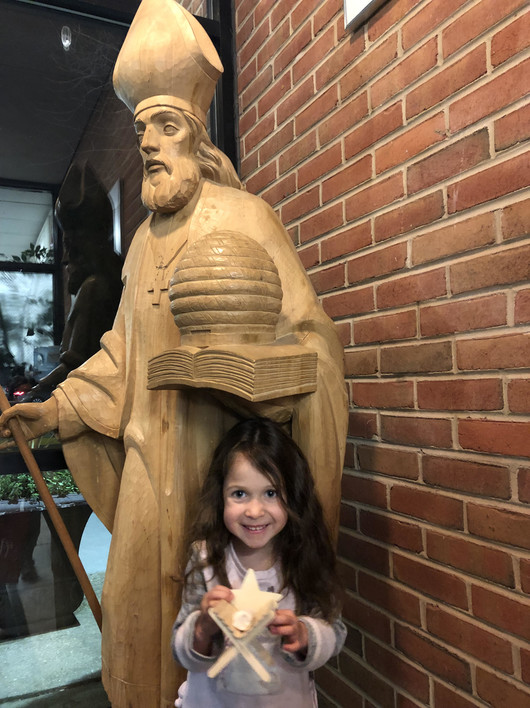 Tuition
One Child - $150
Two Children - $225
Three or More Children - $250
Out of Parish Fee - $50 per family
Sacramental Fees
First Communion Fee - $50 (2nd Grade)
Confirmation Fee - $75 (8th Grade)
Volunteers
Would you like to share your love of your Catholic faith? Do you enjoy working with children? Are you able to dedicate a few hours each week to their faith formation? If so, please prayerfully consider becoming a volunteer - there is always a need for catechists, co-catechists, classroom aides or hall monitors. All Religious Education volunteers must comply with the Diocese of Arlington's Child Protection Policy by completing a background check and attending a VIRTUS seminar.
More Information
Please contact the Director of Religious Education at 703-280-4400.
Confirmation | October 5, 2023